Wooden Inlaid Backgammon Game Set - Dorne - 13 Inches
A set that combines convenience with beautiful craftsmanship, it's a full-size and stunning (yet amazingly portable) wooden backgammon set. With two sets of 15 wooden backgammon checkers, 4 dice, a doubling cube, and 2 wooden dice cups, the game is ready to play when you are!
Beautiful Inside and Out: The level of detail on the backgammon wood inlay speaks to a high level of craftsmanship
Full-Sized yet Portable: The 13-inch set folds in half with all accessories stowed inside, for a truly easy to store and carry set; Kept secure by hidden inset magnets, the case measures 13 x 8.25 x 2 inches (33 x 21 x 5 centimeters) when closed
Classy Playing Field: The board comes with an elegantly-designed play area with inlaid pips and organizational sections for checkers and accessories
Wooden Playing Pieces: Two sets of 15 checkers that measure 1 x 0.25 inch (2.5 x 0.6 centimeter); Also included are 4 dice, a doubling cube, and 2 wooden dice cups
Item US-BG001-C
UPC 810126016232

Customer Reviews
02/01/2020
Lisa M.

United States
So sad this warped...
This is a beautiful backgammon board, with a magnetic close. Unfortunately, it warped about a week after I received it and now doesn't close at all. I would replace it if I could.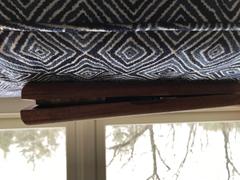 Excellent Quality
Very Good. High quality, excellent craftsmanship. Great value for the price. Shipped quickly.
Almost what I expected.
I bought this as a special gift for my sister. It is built precisely - the inlay is lovely. The magnets are strong and effective keeping the board closed. It is lovely EXCEPT: the "added luster from a piano lacquer finish" seems to be non-existent." There is no luster or shine. The best description I can come up with is the wood on the outside looks dusty. This was a tremendous let down as the set would be so much more attractive if the set had the deep luster that was promised. I cannot speak to the pieces themselves but they are very nice wooden playing pieces (well, not the dice). Overall it is an attractive set but lacking in one of the main selling points.