Wooden Inlaid Backgammon Game Set - Pasadena - 19"
A classy, wooden, large-size backgammon set with beautiful craftsmanship. Includes 2 sets of 15 acrylic checkers, 4 dice, a doubling cube, and dice cups.
Exquisite Inside And Out: The eye-catching backgammon wood inlay adds sophistication to this set
Large yet Portable Set: The 19-inch set folds in half with all accessories inside, for easy storage and carry; Kept secure by hidden inset magnets, the case measures 19.3 x 11.4 x 2 inches (49 x 28.9 x 5 centimeters) when closed
Grand Playing Field: The board comes with an elegantly-designed play area with inlaid pips and organizational sections for checkers and accessories
Complementing Accessories: Includes 2 sets of 15 acrylic checkers that measure 1.4 x 0.3 inch (3.5 x 0.8 centimeters), 4 dice, a doubling cube, and 2 wooden dice cups
Play Anywhere: Ideal backgammon set for home, classroom, club or tournament; It can also be used for travel, outdoor and camping games; Perfect for all ages and experience levels; Complete set weighs 3.4lbs (1.6kg)
Item US-BG009L19-A
UPC 810989025747

Customer Reviews
10/19/2021
Tim O.

United States
Needs better dice
The company was very quick to deliver the inlaid wood board as shown. Impressive quality except for the dice which are 16mm (5/8") standard-type with rounded corners. The white ones are terribly cheap. Will cost me $30 just for a nice set to dress up for presentation as a gift. An added expense.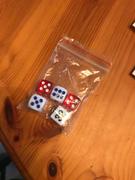 10/20/2021
Yellow Mountain Imports
Hello, We read your product review and we're sorry for the inconvenience. If you could please kindly contact us directly via email, that will help us considerably in investigating and resolving your concern. Again, we are sorry for the inconvenience and want to make things right with you. Sincerely, Candice Customer Support Team
10/19/2021
Tim O.

United States
Nice but needs a finish.
A coat of Varithane would protect the case. Appears to be left, skipping a valuable step, unfinished. Also, the white dice are pitiful. Cheap. Have to dress-up the quality and appearance of the gift with a new set. About $20 extra I didn't want to spend.
10/20/2021
Yellow Mountain Imports
Hello Tim, We read your product review and we're sorry for the inconvenience. If you could please kindly contact us directly via email, that will help us considerably in investigating and resolving your concern. Again, we are sorry for the inconvenience and want to make things right with you. Sincerely, Candice Customer Support Team