Bamboo 2-Inch Reversible 19x19/13x13 Go Game Set Board with Double Convex Yunzi Stones and Bamboo Bowls
Master the strategy game of Go on this traditional bamboo go board with genuine professional Yunzi stones and bamboo bowls.
Reversible Go Board (Goban): 19x19 playing field on one side and 13x13 on the other; The 19x19 side is for standard gameplay, while the 13x13 is great for shorter games; The board measures 18.5 x 17.4 x 2 inches (47 x 44.2 x 5 centimeters) with Chinese standard size grids of 22 x 23.5 millimeters; The entire set weighs 10.5kg (23lbs)
Bamboo Board: This board is made of solid strips of durable bamboo, pressed together one layer at a time; Wood grain may vary slightly from photos; A protective felt sleeve is included with the board
Double Convex Stones: Yunzi stones have been traditionally made for almost a thousand years from the Yunnan Province in southern China; They're beautiful to look at, carry a nice heavy feel, and possess deep sounding 'snap' qualities; They're also the official stones of all professional Chinese Weiqi (Go) tournaments; Each size 32 stone measures 8.8 x 21mm (about 0.35 x 0.83")
Solid Bamboo Go Bowls, "Gosu": The natural bamboo wood bowls include securing straps and carrying bag for easy storage and transport
The Way to Go: Included is Karl Baker's beginner classic booklet explaining the essential rules and strategies of Go
Item YN-TB002-C_YN-SB021-A
UPC 810989022388

Customer Reviews
10/07/2020
Talon M.

United States
Awesome Quality
It arrived pretty quick, and none of the stones were broken or anything. The stones and board are both very beautiful.
09/02/2020
Ruben R.

United States
Great intermediate Set
Set feels great, looks great on my table. Wood will have minor imperfections since this isnt solid wood but I've done nothing but enjoy it. At a minimum you sound buy this for a proper Go experience.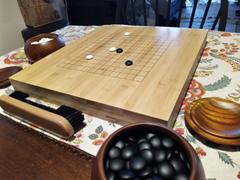 08/29/2020
Alex

United States
Great set
Love the set! The 2" bamboo board is nice and durable. The double convex yunzi stones are fantastic. They have a great feel to them and are a joy to play with. The bowls match the board and the lids work well for placing captured stones into. I wasn't expecting much from the bag the bowls come with, but it turns out that I'm happy the bag was included! No regrets about this set; I highly recommend it.