Sold Out
Husaria Professional Staunton Tournament No. 6 Wooden Chess Game Set, 3.9" (98mm) Kings
Staunton chess sets have been the standard for tournament chess since 1849. Classic, wooden chessmen are skillfully crafted from Schima wood. Board is made from Maple and Sapele Mahogany.
Professional Chessmen Craftsmanship: Made from fine and even-grained schima wood; Each felt-bottom chessman is weighted and beautifully crafted according to Staunton standards; Includes two extra queens for use as promoted pawns
Classic Wooden Board: Crafted from maple and sapele mahogany, this folding, large size chessboard measures 21 x 21 x 1.2" (53 x 53 x 3 cm) when open; Number and letter algebraic coordinates adorn the borders
Standard Staunton No. 6: King: 3.9" (98mm); Queen: 3.4" (87mm); Pawn: 1.8" (45mm); Base diameter: King: 1.4" (36 mm); Pawn: 1" (25mm)
Felt Interior: Felt-lined compartments store the chessmen inside the board; Decorative metal clasps keep the board securely locked after play; The entire set weighs 2.6 kg (5.8lbs)
Item PL-CH102-A
UPC 810989025419

Customer Reviews
10/22/2020
Teresa M.
United States
Chess review
We haven't opened it yet, as it's s Christmas gift! But it arrived on time in great condition!
10/06/2020
Brandon M.
United States
Great Set
This is the set I had been looking for. It has a classical look and feel. The pieces are solid. It stores well, and it has the coordinates on the side, which is great for teaching my kids the game.
10/04/2020
Reynaldo O.
United States
Staunton Tournament No. 6 Wooden Chess Game Set, 3.9" (98mm) Kings
I'm disappointed. I got the one that there's a gap in the middle on the board when open. You see it while playing. Other side is well fitted other side is not. I tried to remove the hinge and match it on level ground still there's a gap. Manufactures defect quality control :(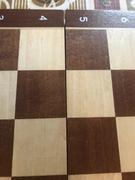 10/20/2020
Yellow Mountain Imports
Hello,  We read your product review and we're sorry to hear that there was an issue with the order you received. If you could please kindly contact us directly, that will help us considerably in investigating and resolving your concern. We understand this is an inconvenience and want to make things right with you.
09/14/2020
Dana
United States
Great set
Love it! Amazing set for the price. Great full size. The board is very nice and the pieces are comfortable. Having never ordered a chess set or from Yellow Mountain i wasn't quite sure, then I opened the box and now I'm very happy Check out and shipping went great. Again, Love it !