Rosewood Mahjong Game Wind Indicator / Bettor
An elegant wood indicator shaped like a traditional Chinese coin used to indicate seating arrangement or for a fifth person to bet on a winner. A perfect replacement for the plastic indicators that come with most sets. Two blank sides on each cube for "betting on the wall" when playing American Mahjong.
Measures 2-1/8"L x 2-1/8"W x 5/8"H (4.5cm x 4.5cm x 1.6cm)
Item US-DW002-A
UPC 810126017376

Customer Reviews
02/07/2020
Patricia M.
United States
wind indicator
excellent as always
07/25/2019
Larry K.
United States
Great idea...if only darker.
This could be a great product. It's well-designed, the right size for older eyes, and perfect for every Mah Jong table in the world. Unfortunately, the wind characters were so light-colored on the one I ordered that we couldn't use it. Yellow Mountain's wonderful Customer Service sent a replacement but it, too, was too light to be legible by older eyes. So we used a fine-point permanent marker to carefully darken the characters and it works very well! Please work with your supplier to get the characters much darker and this well-designed indicator will be a huge hit.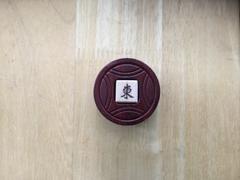 06/06/2019
Carmen H.
United States
Not great
The markings are so faint they are hard to make out
rosewood mahjong wind indicator
Love it. So much nicer than the one that came with the set.
Indicator/bettor
I bought 2 of these. The 1st one was for a fellow mAh jongg player. I also purchased a set of dice with the 1st one. This is because I sold this person a MJ set and it did not have this equipment included so I will give them to her as soon as she returns from medical leave. The 2nd one I purchased for myself to replace a place one I received with the set I purchased. It broke. I have not had an opportunity to use it yet but I will make good use of it. It is a solid piece of wood and the die included is very easy to read and use. The product as a whole is well made.